180° Rotating Fast Charging Cable
Recharge your mobiles in no time even in use with this Fast Charging 180° Rotating Cable!
This universal charging cord is designed with a unique rotating feature that can be used in a convenient 90° to 180° style—providing you with a right angle, hassle-free charging position even when gaming, texting, web-browsing, video watching, online calls, and such. It supports an impressive fast-charging 5V/4A,6A current speed that can fully boost your mobile in only an hour or less. What's more? The rotating cable can also deliver a 480 Mbps transmission rate that enables you to quickly and stably transport any files at all times. 
The fast-charging cable comes with an indicator light that automatically emits a safe blue illumination once it is charged. Moreover, it is available in different interfaces that are compatible with various mobile brands and models, including iPhones and Androids. Made with multi-strand tinned copper conductor and premium TEP outer shell for enhanced durability. It also offers excellent flexibility that allows it to be fully rolled, bent, or twisted without tearing, deforming, or interrupting charging. Making it a great charging cord that will assist you and keeps your phone fastly juice up even after multiple years of use.   
FEATURES:
Universal Compatibility
This fast charge cord is available in different interfaces, including type C, android, and apple ports. Suitable for various mobile brands and models like iPhone 13, iPhone 14 plus, iPhone 14 pro max, Samsung Galaxy S8, S8 Plus, S9, and so on. It even comes in long 
1.2m(3.9ft)
 lengths so you won't have to get stuck next to the wall socket anymore while charging.  
Premium Quality
Made of high-quality with a multi-strand thick tinned copper conductor with graphene shielding and a flexible, reinforced TEP outer shell. It can even withstand 20000+ bending tests without damaging or deforming for faster and secured charging.
Durable Safety Cable:
The fast charging cable is designed with a strong zinc alloy head for protection, applied high-quality extra-thick rubber outer shell can withstand 20000+ bending test, is waterproof, protect you from external electric shock, and corrosion, tangle-free, for your devices, provide longer service than ever before.
   
Maximum Power Output:
The USB charging cable supports a maximum power of 120W safely and provides stable, efficient, and fast charging for your laptop or smartphone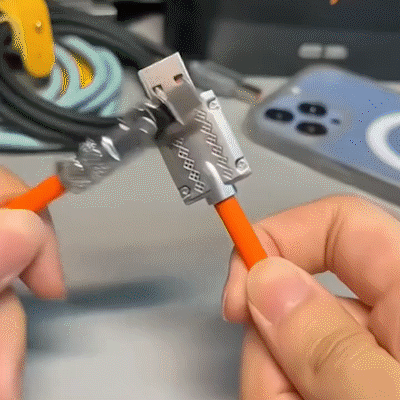 Multi-Length Charging Cables:
Different lengths of charging cables are provided for you to choose from, which is convenient for different situations, moving around your home, office, and car.

SPECIFICATIONS:
Item Type:
Fast Charging Cable
Material:
Silicone
Color: 
Blue, Black, Orange
Type:
Micro-USB, Type-C, iPhone
Length:
1.8m
PACKAGE INCLUDES:
1 x 180° Rotating Fast Charging Cable
Returns Policy

Items that are purchased within a 30 day period can be returned or exchanged. Simply send us an email at admin@crazyproductz.com
For more information, please read our Refund Policy
Shipping
Free Worldwide shipping on all orders
United States: 5 to 7 days.
Rest of the World: 10 - 15 days.
For more information, please read our Shipping Policy
180° Rotating Fast Charging Cable