Kitchen Wall Stickers
Oil Proof Kitchen Stickers

We recommend buying more than 4 to get the best anti-oil effect, in order to better clean the kitchen, and you can even use the Oil Proof Kitchen Stickers for other places
To segregate your kitchen countertop and walls from stubborn oil stains.
To save your drawers, cabinets, and shelves from dust & dirt.
To line your electrical appliances with a stylish self-adhesive aluminum layer.
To facilitate the cleaning of all smooth surfaces.
We are offering you a premium kitchen sticker with 1000+1 applications that will blow your mind with its convenience!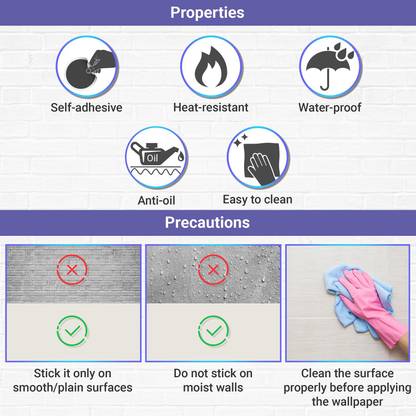 ⭐Make Your Kitchen A Healthier Place !!
Made from premium aluminum, this kitchen sticker will blow your mind with its efficiency!
It is far more durable than custom PVC wallpaper.
Get a 

sturdy, long-lasting adhesive

 sticker for long, reliable use on all your kitchen surfaces!
⭐Perfect Protective Cover For Kitchen !!
Oil-Resistant and Stain-Proof:

 

Prevents grease and oil from staining and getting all over your kitchen, including cabinets, stoves, counters, and walls.
Waterproof, Mildew-Resistant, and Fire-Resistant:

 

Prevents leakages of water under the sink and other areas and stops mildew from building up. Resists temperatures up to 250 Celsius that can be used for a long time and will not deform.

⭐Easy To Cut In The Size You Need !!
Just measure the dimensions of the surface you need to cover, cut easily due to the cut-to-fit grid lines on the removable back sticker, and you're done!
Easy to apply and instantly removable when you no longer need it, this kitchen aluminum sticker is made for your convenience.
⭐Self-Adhesive !!
The removable back sticker has cut-to-fit grid lines for easy measurement and placement, easy for you to create new looks, or repair the appearance of any existing smooth surfaces.
⭐Fully Applied In Your House !!
Stylish, trendy, and eye-catching, this easy-to-use sticker will add fashionable style to your home decor!
Explore its 

versatile use

, applying it in cabinets, countertops, TV stands, dining tables, closets, dishwashers, refrigerators, appliances, etc.
⭐Easier Than Ever To Clean !!
Wipe with a duster cloth or wash with soapy water to keep it fresh and healthy!
Cleaning has never been easier, even for persistent sauce stains!


HOW TO USE:
Clean and dry surface with mild soap and water. Make sure that surface must be flat and cannot have any carving.
Just cut out the size you want.
Use a dishcloth or card to remove any air bubbles.
SPECIFICATIONS:
Item Type:
K
itchen Wall Stickers
Material:
 Aluminum-foil Paper
Color:
 Silver
Size:
12 x 
40in
         24 x 80in
PACKAGE INCLUDES:
1 x Kitchen Wall Stickers
FAQ:
Question: Can these stickers be used on smooth floor tiles? 
Answer: Yes, you can apply them on tiles as well. 
Question: Can you use them on wood? 
Answer: Yes, these tile stickers can be used on wood
Question: Are these self-adhesive? 
Answer: Yes, these are self-adhesive stickers, no additional glue is required.
Question: Can these be used as a cooker splashback?
Answer: Yes, both the Aluminum and Granite stickers are heat resistant and could be sued as cooker splashbacks
Question: Are they easy to remove, will they leave any sign? 
Answer: Yes! the stickers are quite thick which makes them very easy to remove. They will not leave any signs behind.
Returns Policy

Items that are purchased within a 30 day period can be returned or exchanged. Simply send us an email at admin@crazyproductz.com
For more information, please read our Refund Policy
Shipping
Free Worldwide shipping on all orders
United States: 5 to 7 days.
Rest of the World: 10 - 15 days.
For more information, please read our Shipping Policy