Magic Handwriting Practice Book 
Best Educational Books For Home School Learning And Improvement of Skills! 
The Magical Rewriteable Book
 is the best calligraphy book with a Standard English format that has grooves. Handwriting books will fade away writing automatically and can be used again and again. Magic Books has 
interesting activities that will bring a lot of educational fun for your kid.
FEATURES:
Rewrite-able Aspect: Our Magic tracing book will automatically fade away writing after some minutes. The magical ink will dry up and disappear on board. So Magic Book can be reused again and again. Just write up on given grooves with our provided pen and wait some time for magic to happen.
Enjoyable Writing Experience: We have provided a cute little soft silicone material pen holder which enables you to hold a pen for a long time. It allows you to experience comfortable, smooth & enjoyable writing. All books are in Standard English writing format & have clear printing designs to write in.
High-End Quality Material: Magic Book is made up of superior quality thick papers which are not easy to smudge and not easy to stain. Our books are designed with clear printing and deep three-dimensional grooves that can lead your handwriting correct and beautiful.
Help To Improve Skills: Your little one can develop basic motor skills while having fun with our books. Our series of magic books contain a wealth of different exercises to help your kid develop the eye-hand coordination skills necessary to write clearly and beautifully. Children will use our given pen to follow paths showing over pages to write different alphabets, numbers & shapes.
A Bundle Full of Fun And Learning Builds Fine Motor Skills & Pre-writing Skills.
📘 Math Practice Book
📗 Alphabet Practice Book
📙 Number Practice Book
📕 Drawing Practice Book
Ideal Gift For Kids: Giving a gift that has both fun and learning elements at the same time is very difficult. But it shouldn't have to be. Magic Copybook is always a hit for whoever you gift it to, plus it's completely unique! In current times preschool education is very important. Our book will correct the gesture and writing method of holding a pen. A perfect gift for kids ages 3-8 years.
(Best Gift For Children)  
HOW DOES IT WORK:

Just use our given set of pens to write on grooves, then sit back, relax, and wait for the magic to happen.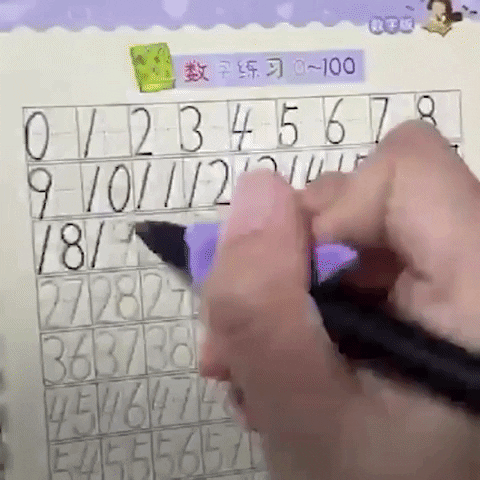 Rewrite on the same path again and again. The best way for early education. An absolute must-have gift for kids.
Building basic skills helps to learn letters, numbers, different shapes, and pictures given on each page of our books.
WHY THIS BOOK?

✔ 
Helps children learn faster than ever
✔ 
Makes sure Your child will never be left behind
✔
Significant improvement in math, handwriting, motor skills, drawing, and visual skills within weeks
✔ 
Reusable books with disappearing ink
✔
Unmatched feedback from thousands of happy parents and children
SPECIFICATIONS:
Item Type: Handwriting Practice
Material: Paper, Plastic
Book Size: 9 x 14 x 1.5 cm
Pen Size: 13.8cm
Holder Size: 4.3cm
Weight: 350g
PACKAGE INCLUDES:
1 x Magic Pen set
5 x Magic Refills
1 x Pen Holder
 (Update: Due to the huge increase in social media attention, our supply is going to run out very soon. Get yours while supplies last)
Returns Policy

Items that are purchased within a 30 day period can be returned or exchanged. Simply send us an email at admin@crazyproductz.com
For more information, please read our Refund Policy
Shipping
Free Worldwide shipping on all orders
United States: 5 to 7 days.
Rest of the World: 10 - 15 days.
For more information, please read our Shipping Policy
Magic Handwriting Practice Book - Set of 4