Mini Food Chopper 
With it, you can have an electric vegetable cutter and an electric meat mincer, and an electric cleaning brush at the same time, a multi-functional set.
It is more convenient to cut and side dishes have fresh ingredients, and are easy to clean, use it once and fall in love with it!
FEATURES:
A dual-purpose, not only a feeder but also a peeler.
Stainless steel blade, and serrated edge, make the ingredients more delicate.
Hard bristle pot brush for easy removal of stubborn stains.
Waterproof body, one key to start automatic cleaning.
Universal Type-c interface + large-capacity battery to solve your battery life anxiety. 
Automatically cut vegetables immediately cut and ready to use! 
ABOUT THIS ITEM:
4-in-1 Handheld Electric Vegetable Cutter Set: Handheld electric vegetable cutter set includes 4-in-1 functions of slicing, cooking, peeling, and cleaning brush. With it, you can have an electric vegetable slicer and an electric meat grinder at the same time, and one machine can be used for multiple purposes.
Open Feed Port: The open feed port saves the tedious steps of opening. and twisting the cap. Don't worry about the length of the food, long strips of ingredients such as peppers, cowpeas, and yam can also be inserted directly, no need to change the knife.
Type C Charging Interface: USB charging and portable cordless design can move freely anywhere in the kitchen, by using the type C interface + large-capacity battery to solve your battery life worries. And comes with a safety indicator light, you can use it with confidence.
Waterproof Body: The whole machine supports washing. After adding detergent to the feed port, stir for 5 seconds, and it can be automatically cleaned with one key start. It is very easy to use, simple and efficient. It's a must-have for lazy people.
Filling Hole: It is also convenient to add one, avoiding the tedious steps of opening and screwing the cap, and the long ingredients such as pepper, cowpea, yam, etc. can be directly inserted.
Cleaning:
The multifunctional set even includes a bristles brush that you can attach to the device for a quick and thorough electric cleaning. 
One-key Cleaning: The whole machine is rinsed, the feeding hole is added with detergent to start with one key, and it can be washed with running water by stirring for 5 seconds.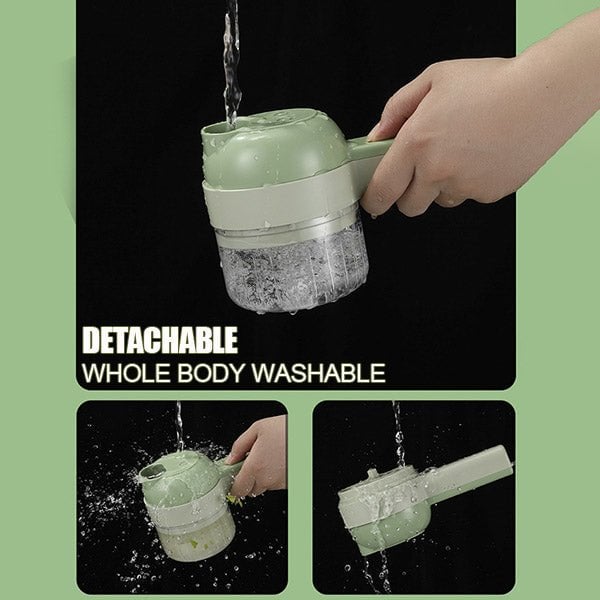 SPECIFICATIONS:
Item Type:
Food Chopper
Material:
 ABS + Stainless Steel
Color:
 White+Green
Motor power:
 about 40W
Battery capacity:
 1500mAh
Food Processor Capacity:
 200 ml
Size:
 9 x 18.5 x 12.7cm / 3.54 x 7.28 x 5inch
Weight: 438g

PACKAGE INCLUDES:
1 x Mini Food Chopper
Returns Policy

Items that are purchased within a 30 day period can be returned or exchanged. Simply send us an email at admin@crazyproductz.com
For more information, please read our Refund Policy
Shipping
Free Worldwide shipping on all orders
United States: 5 to 7 days.
Rest of the World: 10 - 15 days.
For more information, please read our Shipping Policy