Rotating Gear Ring
Rotating Gear Diamond Ring
Find yourself constantly playing with your wedding band or other rings? Perhaps it's time to grab a Rotating Gear Ring to fool around with.
This intriguing little accessory features six micro-precision gears scattered around the outside which allow the outer rims to spin independently of the ring itself. Great for watchmakers, engineers, and tinkerers alike.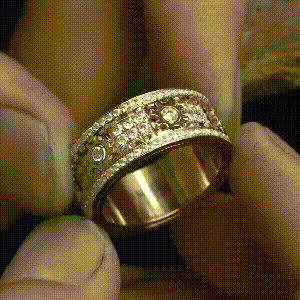 Some say it's mesmerizing. Others say it's therapeutic. A few bold souls claim it's the best ring ever made.

The Rotating Gear Ring is a fashion accessory, gadget, and toy all in one. You may get addicted. But hey.. a little spinning never hurt anyone.

Get a Rotating Gear Ring in gunmetal or rose gold. Or be a super and collect all. Complex enough to play with, yet simple enough to wear.

The Rotating Gear Ring is made from high-quality copper-gold alloy. It features micro-precision gears that turn when the outer rims are spun.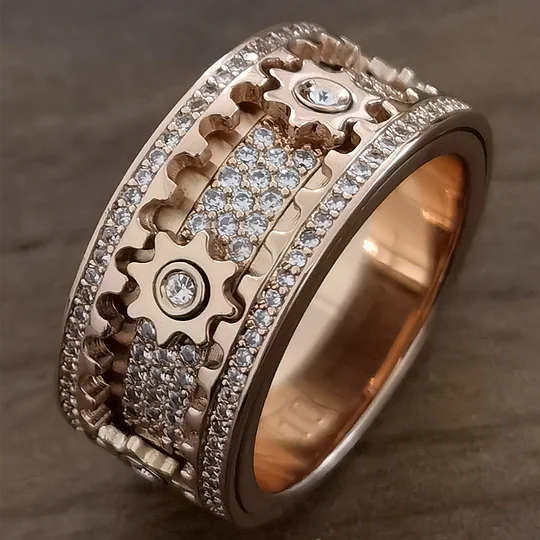 Available in 2 Styles
The main gem in gear: with 6 main gemstones on the gear only.

Full of diamonds: In addition to the 6 main gemstones on the gears, the entire band is set with 246 small diamonds.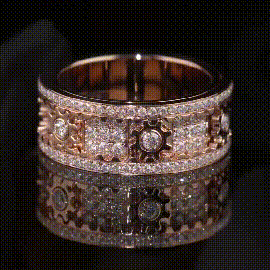 How do I care for my Gear Ring?
If your Gear Ring needs a cleaning, we recommend soaking it in warm soapy water for at least an hour and wiping it dry with a soft cloth or paper towel. Do not use any harsh abrasives or household chemicals that may damage its natural protective coat. Certain grainy materials (such as sand) may clog the gears, making the ring difficult to spin. Do not try to oil or lubricate the ring. Do not try to dismantle or modify the construction of the ring in any manner as it may make it impossible to repair. Contact us should the need arise. Take caution and do not wear while working with any machinery, equipment, or hazardous substance.
SIZE CHART
Find your ring size with our international size guide. Our sizes match standard USA/CAN sizes.
If you are a half size, we recommend ordering the next whole size up (one half-size larger).
Internal Diameter (MM)

USA &
Canada

Europe

UK/AU

17.3
7
55
N
18.1
8
57
P
18.9
9
60
R
19.8
10
62
T
20.6
11
64
V
21.5
12
67
X
SPECIFICATIONS:
Material:
Made of Copper-Gold Alloy / Titanium-Platinum Alloy.
Gold-filled (hypoallergenic): 14K Gold fill is a pressure-bonded layer of gold that has 100 times more gold than plated jewelry. It is durable, won't chip or flake is tarnish-resistant, and is a great alternative to "karat" gold that is reasonably priced. Looks great and if taken care of should last for many years.
Gem:
Artificial Diamonds.
Lab-Created:
Yes.
The term "lab-created" refers to synthetic gems that have the chemical and physical properties of natural gems but are manufactured in a laboratory instead of naturally formed and mined.
Measurement:
 9mm
Colors:
Rose Gold, 
White Gold
Size: 7, 8, 9, 10, 11, 12
PACKAGE INCLUDES:
1 x Rotating Gear Ring
Returns Policy

Items that are purchased within a 30 day period can be returned or exchanged. Simply send us an email at admin@crazyproductz.com
For more information, please read our Refund Policy
Shipping
Free Worldwide shipping on all orders
United States: 5 to 7 days.
Rest of the World: 10 - 15 days.
For more information, please read our Shipping Policy